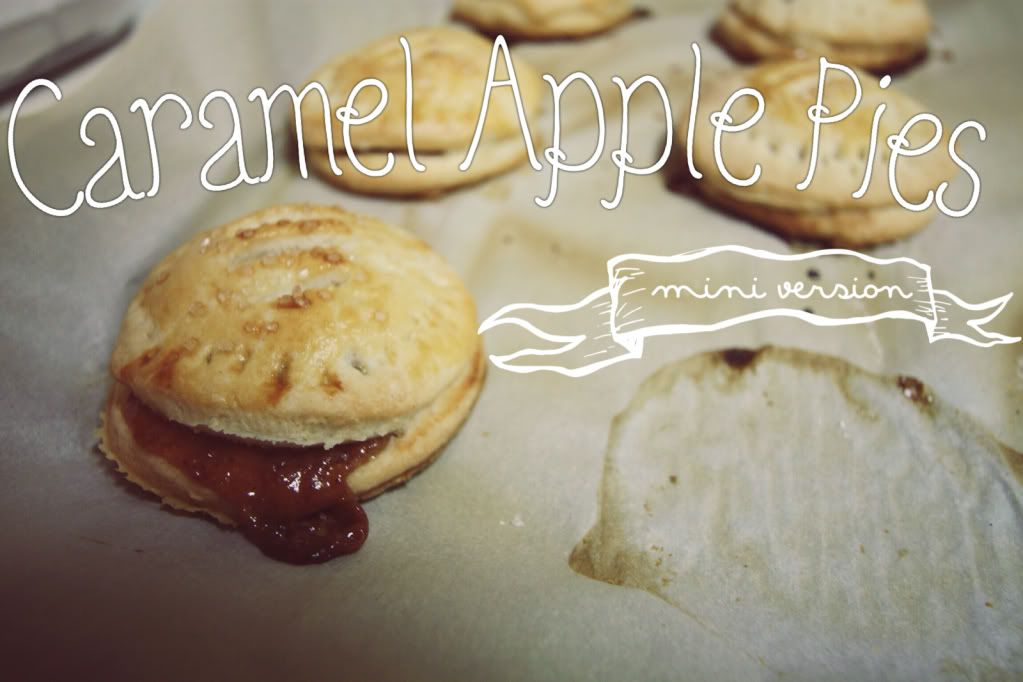 Our winter has finally arrived...somewhat. We still have the ability to keep the air off completely and not have to turn the heat on, which is a high five to our power bill. So even though fall and all the holidays have passed I couldn't resist baking up some mini apple pies that fit perfectly in the palm of my hand and in my tummy. Today I'm sharing this tummy warming recipe with you guys! I was so very afraid of pie making until I finally surpassed my fear in November and made these little cuties. Someday I'll brave the mastery of making a large pie, but until then I have these treasures that hit the spot. Here's how you make your own little apple pie cuties:
You will need:
For the dough
2 cups all purpose flour
1/2 teaspoon salt
1/2 teaspoon baking powder
1 cup (2 sticks) unsalted cold butter
1/2 cup cold sour cream
For the filling
About 2 cups of diced (teeny pieces) and peeled Granny Smith apples
2 teaspoons fresh lemon juice
1/2 teaspoon cinnamon ( I always add a tad more because well why not?)
1/4 cup granulated sugar
2 teaspoons all purpose flour
6-8 store bought chewy caramel candies, diced (also teeny pieces)
Large flake sea salt (optional)
Egg wash (1 egg lightly whisked with a tablespoon of water)
Crystal sanding sugar, the thick and shiny stuff.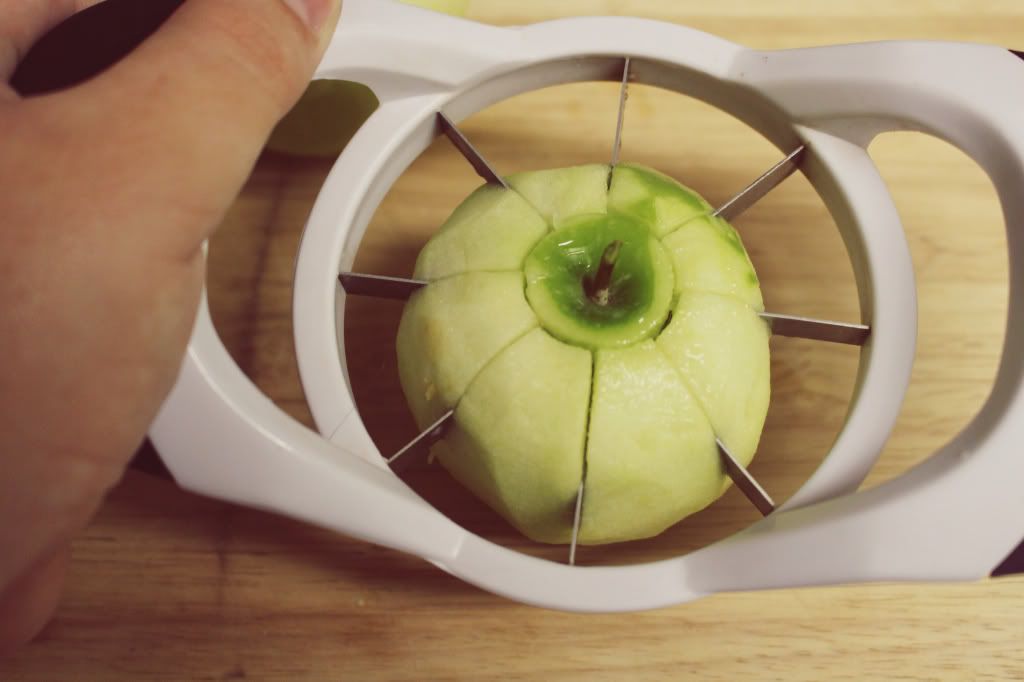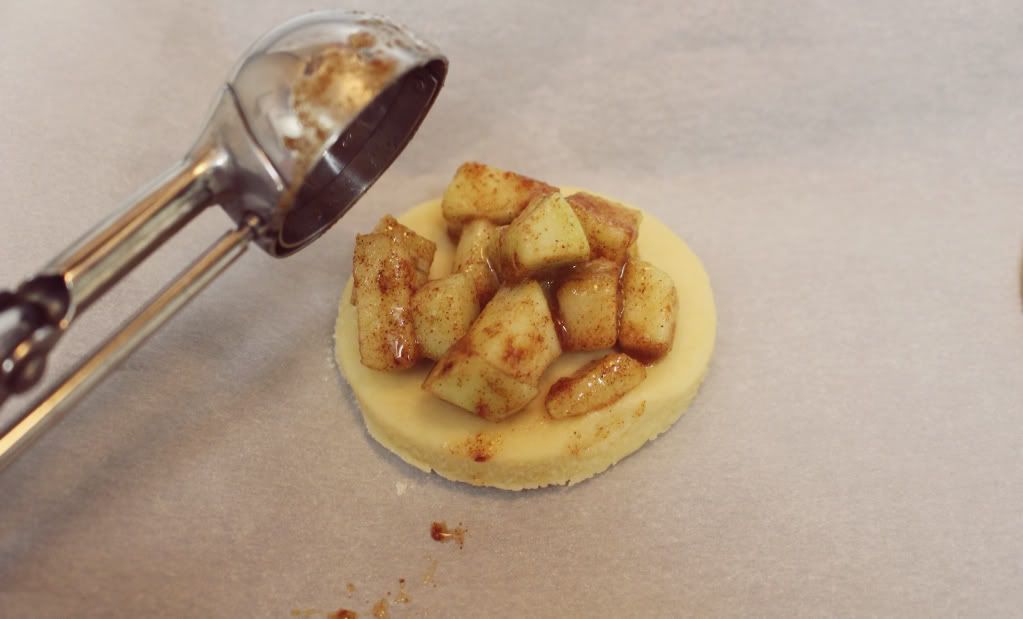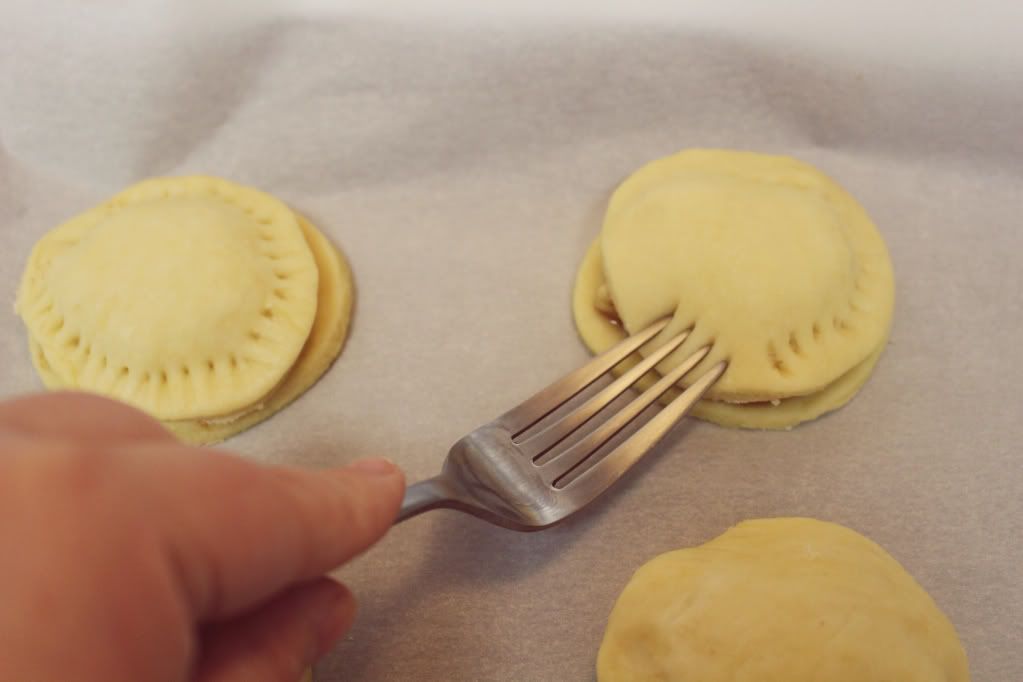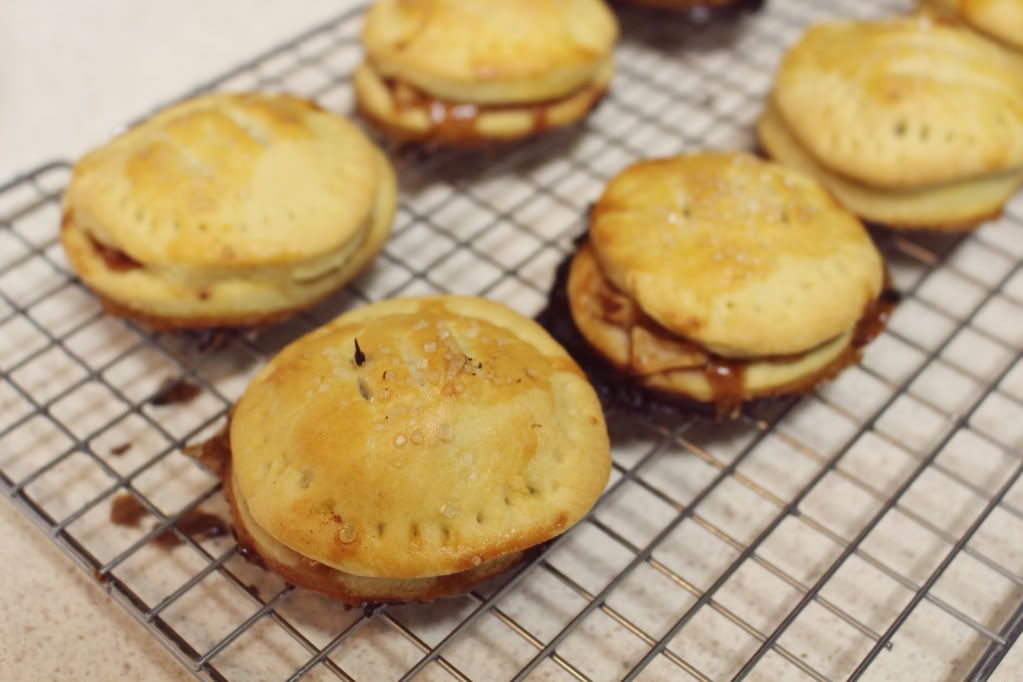 Making the dough:
1. Add flour, salt, and baking powder to the bowl of your stand mixer with the dough hook attachment.
2. Combine the cubed butter slowly as the hook kneads the dough. You want the dough to start feeling and looking like wet sand. Then with a spoon stir in the sour cream until the fully combined. Turn the dough out onto a floured surface and knead a bit with your hands, adding bits of flour as you go.
3. Once the dough is no longer sticky, roll out the dough so its roughly becomes an 8x10 square. Sprinkle flour over the top, flip it over and do the same to the other side. Fold the dough into thirds and place in the fridge for 30 minutes. Now time for the filing my favorite part!
Making the filling:
1. Peel and Chop your granny smiths. (I use my apple corer to make life easier after I peel) You want the chunks of apple to be itsy bitsy.
2. Grab a small bowl and throw in the apple chunks, lemon juice, cinnamon, sugar and flour. Give it a few stirs and breathe in the aroma of soon to be apple pie.
3. Finely chop up your caramels and whisk up your egg wash and set both aside.
Assembly:
1. Preheat your oven to a whopping 425 degrees.
2. Take your folded dough out of the fridge and lay it on your floured surface once again. This time you're going to roll it out into a big 14x14 rectangle or until its thin, but not paper thin. Take a circle cutter of your choice, I used a wine glass. You just don't want your circles to be too small. Cut out as many circles as possible until you run out. Make sure you have an even number though because you need the top and bottoms circles of the pies.
3. Use parchment paper on a cookie sheet of your choice. Place six of the circles on the sheet. Next scoop some yummy apple filling onto each round. Sprinkle caramel bits onto the filling.
4. Grab your apple pie lids and place on top of each. Press each one all the way around with a fork to make a really pretty edge and to also seal it up. Make slits in the top with a knife and brush on your egg wash. Garnish with crystal sugar on top.
5. Bake for about 15-20 minutes or until golden brown. Allow the pies to rest before enjoying!
(Note: Using the stand mixer isn't necessary. You can simply knead this dough easily with your hands and come out with a just as tasty result!)
Happy Baking!