I love cooking. I really love it. I actually enjoy cooking dinner for my family and being in the kitchen gives me a sense of relaxation. I suppose that could be a bit odd because most people avoid dinners and their kitchens like the plague. I felt this way at one point so I can completely and totally relate. What turned things around for me was meal planning. Once I started customizing and figuring out meal plan to fit my family things instantly turned around. I noticed that a lot of the stress came from the never ending question...what's for dinner tonight?
I dreaded the question because it sent my brain into a flurry of panic. I know you've all been there, mentally searching your recipe filing cabinet and then rushing off to the store every night to cram your cart full with more than anticipated and then off to your kitchen to throw it all together before bedtime. It's a mess and I'm gonna give you some of my tips that will make you enjoy your kitchen once again. Because if I can love my teeny apartment kitchen, I have faith you will rekindle the loves for yours.
Step #1: Make a list and check inventory
This may sound like a "duh" moment to most, but I can't tell you how many times I used to walk around the grocery store aimlessly not having a damn clue what I needed and what the house already had. So that resulted in having multiple amounts of the same thing in our pantry/fridge. So I start my week off by marking on my calendar what we are having for dinner on each given day. (For us, we make dinners on Mondays, Wednesdays, Thursdays, and Sundays, Fridays are give or take on leftovers if we have them.) so once I've decided what our tummy's are having all week I make a list of all the things required to make the meals. After time has went with meal planning we have stocked up a lot of the necessities needed for most meals so it makes the list making process easier and easier and cheaper! You could hand write out a list or do it any special way you would please, but I MUST recommend an app that makes thing so so simple. It's called RecipePad and I'm not sure if other devices have it in store, but it know that the iPad has it and I use it every single week. It goes with me on every shopping trip and I would probably freak out if I ever left it behind, it's a special bond. The app organizes your recipes, that you transfer onto it or you can find recipes in the explore tab (kind of like a food version of pinterest). It has a nifty shopping list button on each recipe that lest you select the items from the recipe that you need to pick up at the store. Those items get transferred to your reminders (list) tab on your iPad and you're ready to get rolling. It is so easy and makes meal planning a cinch. You must check it out.
Also, when starting to plan your week go through and skim your fridge and pantry for stuff like condiments or essentials like eggs, milk and flour. Always make sure your stocked up for every week and you have enough of what you need, but not TOO much of it. And don't forget to check on your toiletries and cleaning supplies every few weeks as well. What I do is I have a magnetic list attached to the side of our fridge, whenever I use the last egg or last few drops of dish soap I write it down. That way, I don't forget and at the beginning on the week I just add it to my iPad list and I'm good to go.
Step #2: Check ads for deals and coupons
Ryan and I are walmart shoppers, we just always have been. It's cheaper for us compared to some of the grocery stores in our neighborhood (sorry publix). Walmarts in our area do the ad matching thing and now have started supporting bogos (buy one get one frees) into that mix. The key to saving isn't to be one of those crazy people on those coupon shows....who needs that much toothpaste anyways? The key is to clip what you use and leave the rest for the garbage. Sometimes that means no coupons at all, but most weeks I find at least two or three that are beneficial to us and usually they take a whole month to expire so collect them for just in case. We do participate in the ad match guarantee, especially the bogos. We never go overboard and buy things just because you get something free, we always stay focused and buy what we need and if that means getting something free with it, so be it! Every week we always walk out of the store with like three or four bogo sets of items. We sometimes even work around the bogos and sales and incorporate them into our meals for the week. That's how I plan, around the deals and savings. You'll always get the most for your money with a little meal planning and ad searching. So don't forget to pick up your Sunday paper!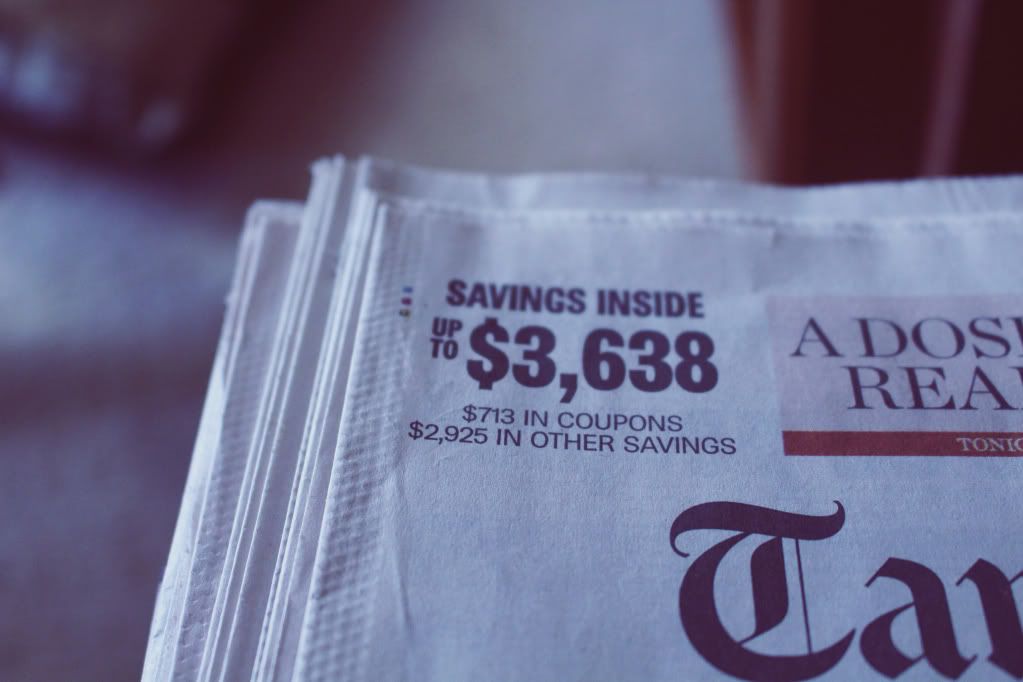 Step #3: Go shopping!
My number one rule is to not get distracted by all the fancys. We go straight for produce first because that's where we get the majority of our items (fresh is ALWAYS best...and cheaper). Next we weave our way in and out of the aisles and let the list take us from there. And it's as simple as that, remember to keep an eye out for any other deals you see in the store and for stuff you may have missed putting on your list. And walk out of the store knowing that you didn't splurge too much and you got a cart full of groceries that you know exactly what meals they will turn into once you're home. It's a satisfying and stress free feeling.
I hope these tips work for you and if not tweak things a bit to work toward your family. Also don't forget to check out and download the RecipePad app
here
and start sorting your recipes and shopping lists now!