When Ryan and I first started dating we both were car-less. It was funny because we would literally walk to most of the destinations we desired and were perfectly okay with it. I still would walk everywhere around the world as long as Ryan was my walking companion, but a car was like a far far away fantasy 4 1/2 years ago. Every once in a while we would snag a ride in his brother's car to go to who knows where and we were all lame about it and thought we were so damn cool.
Fast forward about a year later. Ryan's dad found us a beat up old Ram van and we paid like 500 bucks for it. Big spenders. It was THE best thing since sliced bread. We went mostly everywhere in that van. He would come pick me up from my Mom's house and we would cruise around and take our mini adventures around town and the sidewalks didn't miss us much at all. So just picture a big black and aqau van, that has only a driver's seat and a passenger seat. The whole inside was empty except for a bunch of weird stains on the carpet, carpet on the sides and pretty much everywhere and little aqua velvet curtains on the windows. The curtains were my favorite. We named the van Jeb after our big fat black cat. We brought Jeb home in that car, he was the babiest kitten then and we let him roam in the back the whole ride home. We spent a lot of time in the back of the van just getting away from the world for a little bit. Then poor 200,000 mile Jeb the van broke down.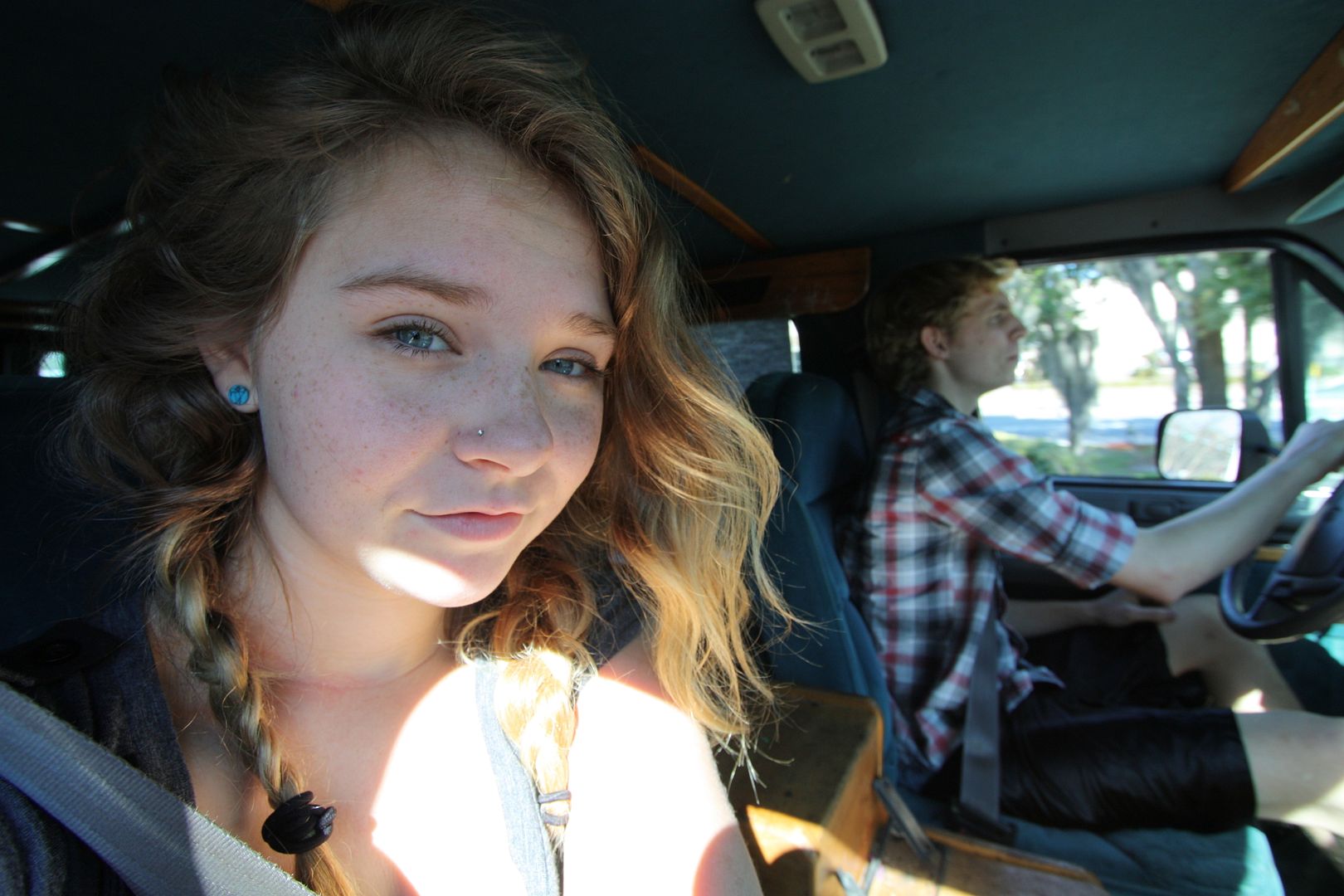 Back to square one. We didn't have a vehicle for about another year-ish. Until we decided to make a rash decision and go to one of those hick used car lots that nobody really knows about. Bobby J's. This is where we got The 1999 Chevy Cavalier. This car was a literal hell on wheels. Not in a good way whatsoever. It has spent countless days in the shop fixing all it's insides. The engine blew and we were without a car AGAIN because it took a while to get it fixed. It's been a good year and a half since that happened and it's still running....sort of, if that's what you wanna call it. We never knew how much gas we had because our gas gauge was possessed along with the speedometer that would sometimes go wacky crazy while you're driving down the road. This car had it all. Anyway aside from all that we were all happy slappy and then our air conditioning broke completely which wasn't so bad in the fall and winter, but the summer....don't even get me going especially with having a baby. It was just becoming unrealistic. Sigh. Around this time last year our car also got badly BADLY infested with german roaches. YAY. So not yay. We still managed to go on all our adventures and we made so many amazing memories in there don't get me wrong, it's just it was time...
Friday night. It was a casual Friday. My mom had actually taken Lola for the day so I could get some much needed deep cleaning done in the house. Ryan came home and immediately jumped on my laptop. After about 2 hours of his face being planted on the screen. He closed the laptop and we drove to the Toyota dealership down the street. We drove up in our Cavalier, surrounded by nice shiny, bugless cars. We met our sales guy, he pointed straight ahead to what was going to be our future car. I think we were both in straight up awe over this thing. So sleek and black and gigantic on the inside. It was time. We have needed this for a long time coming, especially with Lola coming along on all our adventures. We knew we needed something reliable and strong enough to endure the future unlike our past cars. So without further ado say hello to our 2011 Toyota Camry....