Valentine's Day has never been a huge deal to Ryan and I as a couple. Our anniversary is 4 days before it because we couldn't wait 4 more days to have a "cutesy" anniversary date. That doesn't mean that we don't overload each other in the lovey holiday. I know everyone says that valentines day is lame and just an excuse to get fat off of too much chocolate and to feel loved for just one day. Well, I think all of that is crap, because I feel loved each and every day and we still spoil each other with too much chocolate and kisses. I mean, that's like saying if you already have enough stuff you don't technically "need" christmas gifts every single year. A holiday is a holiday for a reason, and why not celebrate one full day of just plain good old fashioned love?
Well that's what we did, in our own way of course. I decided I would bake Ryan something because all my heart goes into my baking and this time I mean it in the most literal way.
Oozing Heart shaped raspberry hand pies....absolute heaven I tell you. But I think you might just have to see for yourself. Although Cupid has shut his doors for the year, that doesn't mean you can't bake these lovelies for any ol' day for your special somebody. I mean everyone wants raspberry pie goodness in the shape of a heart...right?
I also used my crumbly flaky pie crust recipe that I shared a few months back right
here
when I made caramel apple mini hand pies. It works wonders and it's probably the only pie crust recipe I will ever use because it's so simple. Now that your dough is ready to go, let's get started on that tarty, but sweet filling!
Raspberry Heart Shaped hand pies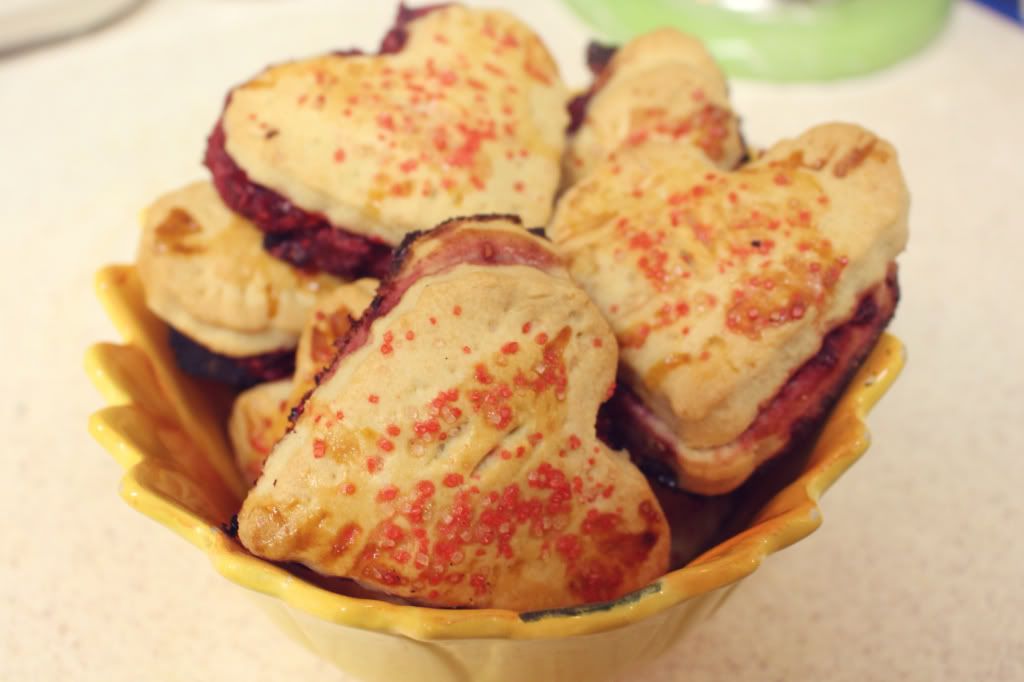 Ingredients for the filling:
About 2 cups frozen raspberries
4 tablespoons of sugar
1 teaspoon cinnamon
1 teaspoon nutmeg
A squeeze of half a lemon
1 1/2 teaspoon lemon zest
2 tablespoons cornstarch
A pinch of salt
Egg wash for coating the crust (1 egg + 1 tablespoon of water)
Sanding sugar (I used red and white colored sugar)
Cutesy adorable heart shaped cookie cutters
Making the filling:
Thaw out the raspberries pretty good before starting. Then drain them well and rinse a tiny bit.
Pour the raspberries, sugar, cinnamon, nutmeg, salt and cornstarch into a small bowl. Crush the raspberries but not fully so it stays chunky as well.
Grate your lemon and cut it in half and squeeze the juice out of it into your raspberry mixture. Set bowl aside.
Now that your dough has set and been rolled out, take your heart shaped cookie cutters and make as many hearts as your little heart desires, but make sure it's an even number so you have a top and bottom for each hand pie.
Lay your hearts onto a cookie sheet lined with parchment paper and scoop a little bit of filling onto each one, it's okay if they ooze out a little. Now place your heart lids on top of each heart.
With a fork press around the sides just pinching everything in place.
Make the egg wash and brush a little onto each heart. Now take a knife and make slits into the center to let em' breathe. Sprinkle a little sanding sugar on top to make them shine and sparkle.
Place your hearts in a preheated 425 degree oven and play the waiting game for about 20-30 minutes or until they are golden brown on the tops, but not too brown!
Take them out and serve with ice cream or whipped cream whichever you prefer and give your heart shaped goodness to the one you love the most. No matter what day it may be.
Happy Hearty Baking!